Current page: Home > ProductsProducts
1,3-Diaminoguanidine Hydrochloride
Structural formula: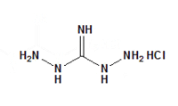 Product name: N,N'-Diaminoguanidine monohydrochloride
English name: 1,3-Diaminoguanidine Hydrochloride; 1,3-Diaminoguanidine Monohydrochloride; N,N'-Diaminoguanidine Hydrochloride; N,N'-Diaminoguanidine Monohydrochloride
Abbreviation: n,n'-diaminoguanidine hydrochloride
CAS No.: 36062-19-8
Molecular formula: CH8ClN5
Molecular weight: 125.56
Physical and chemical properties: white or almost white powder; melting point: 179~185℃, density: 1.940g/cm3; solubility: easily soluble in

Technical Specifications
(1)appearance: white or almost white powder
(2)content: ≥98.00%
(3)Loss on drying: ≤0.20%

Packing specification: 25kg/drum(fiber can), 25kg/bag(woven bag), 250kg/jumbo bag or on demand
Storage: should be preserved in cool, dry and ventilated place; stay away from heat and fire; Avoid direct light exposure. Avoid exposure to strong oxidants.
Main applications: intermediate of chlorphenylguanidine, an coccidiostat or animals.